It's Sunday and that means we get to know a random prospect in the system. Alternating pitchers and position players, we get one of the latter and this one could be a top prospect if he continues to produce.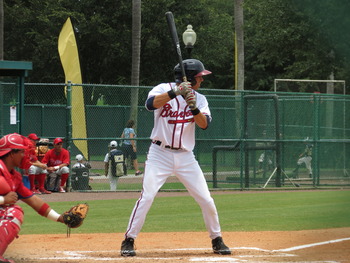 Originally signed out of Venezuela,
Jose Peraza
is a 19 year-old who has been playing professionally since 2011, a year after signing as an international prospect. A right-hand hitting and throwing shortstop, the teenager was one of Atlanta's top 2010 international signings. When he joined the organization, Pereaza was compared to Omar Infante as a guy who projected to be a strong middle infield hitter with gap power. In addition, his speed was a true asset.
Unsurprisingly, Peraza has begun to climb up the system charts. He spent 2011 in the Dominican Summer League, showing mature on-base skills to the tune of a .346 OBP in 269 PA. He added nine extra-base hits and 28 steals in 35 attempts. Unlike many international signings, Peraza's time in the DSL was short-lived as he was brought state-side to open the 2012 season.
The Braves attempted to go slow with the teenager, but he quickly forced a promotion from the Gulf Coast League to the upper Rookie-League squad, the Danville Braves. After his .772 OPS in Florida in a shade under a hundred at-bats, he followed up with a .690 OPS with Danville. However, he remained an on-base threat, reaching base at a .351 clip with 15 steals in 17 attempts, giving him a 25-for-30 success rate for 2012.
His sophomore season quickly placed him near the top 10 in several organizational top prospect lists. In addition to Infante, a comparison to
Elvis Andrus
was also presented. In 2013, still a year away from turning 20, Peraza was promoted to Rome. While his gap power still hasn't developed, he has remained a top-of-the-lineup guy, posting a .348 OBP to match his career OBP. He has remained a successful thief on the base paths, swiping an impressive 36 bases in 43 attempts and with 89 career steals in 108 attempts, Peraza has a success rate of 82% for his career. In addition, he leads the organization this season by a wide margin this season in steals.
Mycal Jones
of Mississippi has 20 steals.
By all accounts, despite awful error numbers, Peraza has a future at shortstop as he shows the range and arm to stay there. Is that future in Atlanta's system? Seems unlikely with
Andrelton Simmons
at shortstop for the foreseeable future, but considering Simmons' offensive struggles this season, it can't be 100% assumed that Peraza can't unseat Simmons in three-to-four years at Peraza's current rate. He shows the potential to hit lead off and play everyday at a premium defensive position. Guys like that don't just come around every day.
Peraza will likely received a good deal of press as a member of the Top 10 Atlanta Braves prospects after he season and a call-up to Lynchburg for 2014 seems like the next challenge for Peraza. Considering his success rate to this point, the smart money is on the speedy shortstop to answer that challenge as well.